MeteoCast®
The integrated meteorological support platform in which all the Radarmeteo services and the available meteorological information are collected
Watch the video
STRENGTHS
Responsiveness
The service makes it possible to clearly and immediately identify the phenomena in progress, their intensity and evolution
Mobile access
The mobile version of the platform allows access at anytime anywhere
Completeness
All available information is collected, integrated and then displayed on a GIS environment.
Customisation
Customer interest layers can be displayed for better locating weather information.
COMPLETE INFORMATION HUB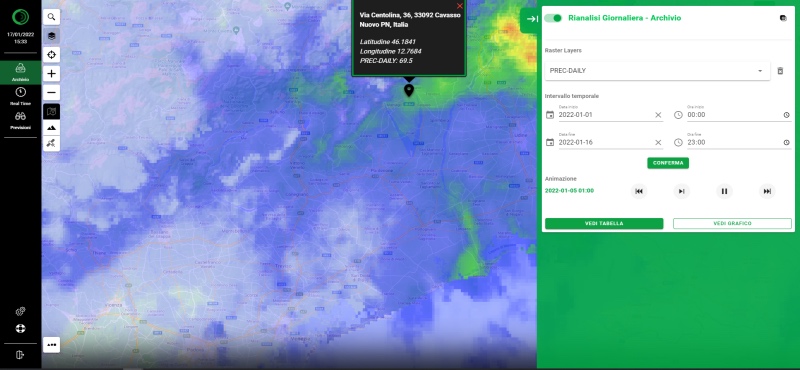 ALL THE METEOROLOGICAL INFORMATION AVAILABLE
The platform collects and displays all the Radarmeteo services enabled for the customer on an interactive GIS platform, in addition to the data and official information provided by official bodies.
360 ° MONITORING
The platform allows the user to consult and investigate past weather conditions, to monitor phenomena in real time and to understand their future development (from nowcasting to the medium-long term).
USE IN OPERATIONS ROOMS
The platform, or part of it, can be adapted with some specific features for viewing in the operations, remote monitoring and management rooms.
METEOROLOGICAL RADAR DATA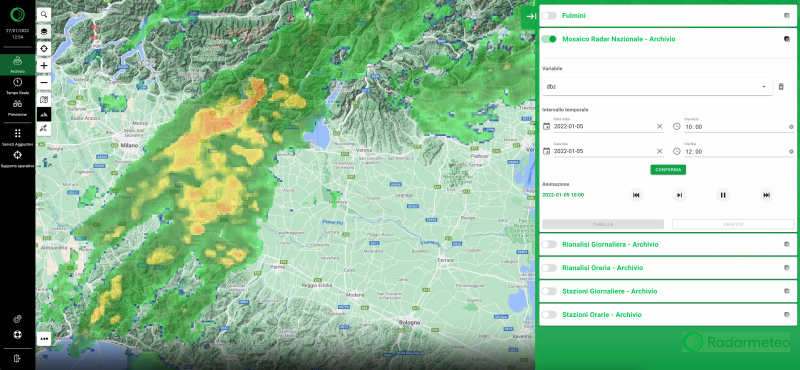 RADAR MOSAIC
Meteorological radar has the function of detecting atmospheric precipitation (rain, hail and snow) in real time. MeteoCast® displays the mosaic that integrates data from all available radars.
INTENSITY AND TYPE OF PRECIPITATION
The radar data gives a clear indication of the intensity, extent and location, as well as the type of precipitation on any point of the territory.
NOWCASTING AND HISTORICAL ARCHIVE
The nowcasting algorithm provides the forecast for precipitation displacement in the following hours; the availability of archive data allows the reconstruction of past events.
FUNCTIONALITY DEDICATED TO RISK MANAGEMENT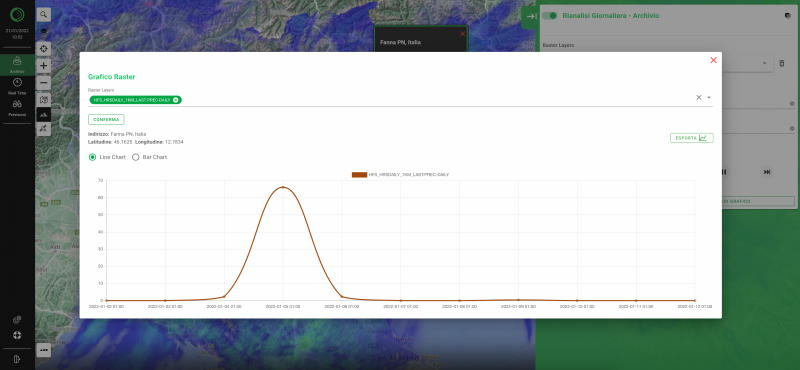 RISK INDICATORS
The visualization of the data relating to the meteorological phenomena hail, rain, wind and SWRI (Severe Weather Risk Index), allows the end user to obtain a detailed classification of an area based on the exposure to meteorological adversity.
METEOROLOGICAL REANALYSIS DATA
Through the platform it is possible to investigate the reanalysis data archive for the ex-post verification of impacting meteorological events or for the analysis of the historical evolution of meteorological parameters of interest.
INTEGRATION OF GISMETEOTRIGGER®, METEOTRIGGER® AND ALERT EX-POST® SERVICES
The platform integrates the services for verifying the occurrence of various meteorological adversities, making the user experience consistent and optimising the process of sending requests and consulting threshold exceedances.
SIGN UP TO OUR NEWSLETTER
Sign up to stay updated on our activities! You will find us in your inbox about once a month.