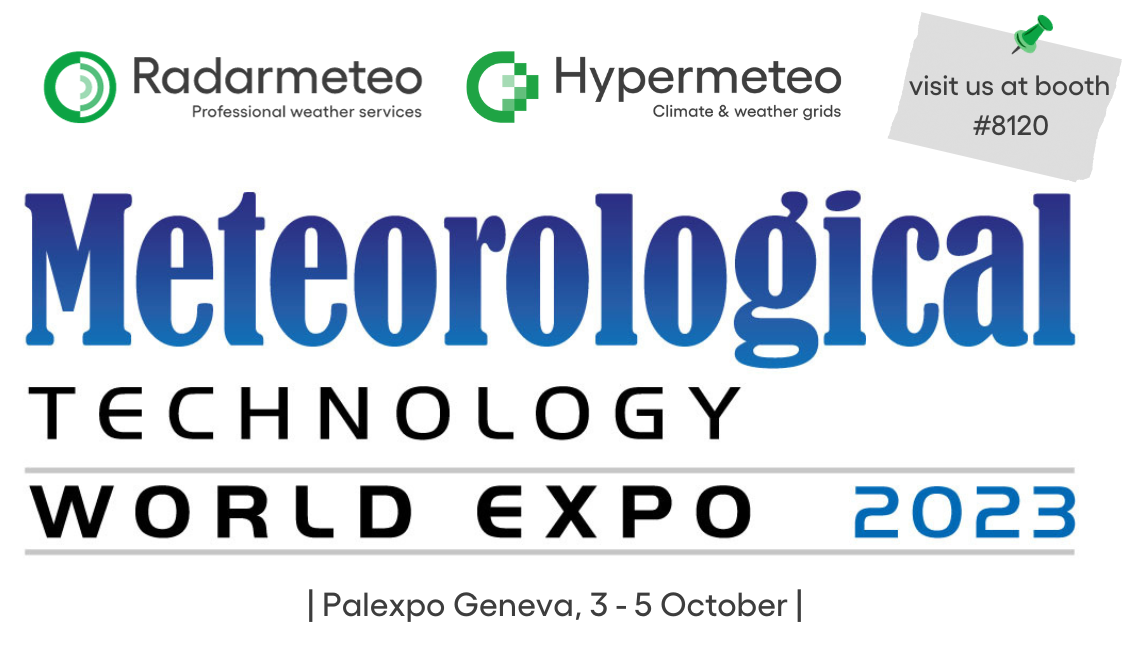 Radarmeteo and Hypermeteo will be present as exhibitors at the 2023 edition of Meteorological Technology World Expo, held in Geneva on 3-5 October.
With about 145+ exhibitors and thousands of participants from over 100 countries, it is the leading international trade fair for manufacturers and suppliers of technologies and services for meteorological, hydrological, maritime, and environmental monitoring.
Some of the latest innovations developed by Radarmeteo and Hypermeteo will be presented at the event, including the E3CI index, developed by IFAB International Foundation and CMCC. It is a set of indicators developed to provide up-to-date information on the frequency and intensity of severe weather events in Europe, in particular cold and heat stress, droughts, extreme precipitation and extreme winds, in a concise and intuitive manner.
E3CI is a key tool for measuring the impact of climate chang, for risk assessment activities, for insurance policy pricing and for the development of new insurance products (parametric or index-based), as well as for communicating climate change impact to society.
Download your complimentary e-ticket to visit us at stand #8120 and discover our range of services and solutions for weather and climate analysis and monitoring.
OTHER EVENTS
Servizi a Rete Tour | Ercolano (NA) | 27 – 28 September 2023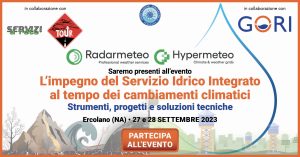 On 27–28 September, Radarmeteo and Hypermeteo will be present with an exhibition space at the itinerant event "Servizi a Rete TOUR 2023", organised in collaboration with Gori spa. An opportunity to exchange views on the topic "The commitment of the integrated water service at the time of climate change" through direct discussions between experts, operators, and companies.
Find out what innovations we will be presenting, visit us at desk #34 and don't miss the technical speech on Wednesday, 27 September at 2.45 pm: Daniele Bolpagni, Head of the Purification Service at a2a, and Alberto Garinei, Chief Scientific Officer at Idea-Re S.r.l. and Consultant for Radarmeteo and Hypermeteo, will present a case study entitled "Deep Learning-based Decision Support System (DSS) for Flood Mitigation in a Hydraulic Basin".
RADARMETEO WILL BE AT OMC RAVENNA 2023 TO PRESENT ITS SERVICES DEDICATED TO THE ON-SHORE AND OFF-SHORE ENERGY SECTOR
Radarmeteo will be present as an exhibitor at OMC 2023 held on 24-26 October Ravenna.
Initially scheduled for May, and postponed to October due to the flooding in Emilia-Romagna, OMC Med Energy Conference and Exhibition is the leading Mediterranean event – and the only one in Italy dedicated to the energy sector.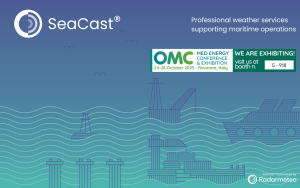 The event, which celebrates its 30th edition this year, will be dedicated to the industrial energy world as a whole, a setting for discussion and collaboration for developing concrete paths focused on achieving energy transition, decarbonisation, and a rapid evolution of the sector towards a more sustainable scenario, in light of the impacts generated by climate change.
Radarmeteo, which also provides support to the energy sector with tailor-made services and tools such as operational forecasts, high-resolution weather data, post-event analyses and climatological studies for both on-shore and off-shore operations, will be presenting at stand #5-918, the set of services SeaCast®: a set of support tools dedicated to maritime and seafaring operations. A team of meteorologists works 24/7 to ensure the highest level of weather monitoring on a site-specific and routing basis. They are supported by software engineers and developers who can create tailor-made solutions for each specific project.
To find out more on SeaCast® visit the Radarmeteo stand #5-918 (HALL 5) by downloading the complimentary e-ticket!
Comments are closed.